Shri Sharadchandra Govindrao Pawar, MP-
National President, Nationalist Congress Party.
The Nationalist Congress Party (NCP) is a true inheritor of the rich and glorious political legacy handed to the Indian National Congress (INC) by early stalwarts like Dada Bhai Naorogi, Gopal Krishna Gokhale, Bal Gangadhar Tilak and Annie Besant, and by other veterans of the freedom struggle - The Father of the Nation Mahatma Gandhi himself, Pandit Jawaharlal Nehru, Maulana Abul Kalam Azad, Sardar Vallabhai Patel, Aurobindo, Subhash Chandra Bose, Khan Abdul Gaffar Khan, Smt. Sarojini Naidu, Madam Bikhaji Kama and Aruna Asaf Ali. This legacy is one of ardent nationalism and of secular ethos, the fountain-head of which is the very history of our civilization. It is also one of standing for individual freedom - social, economic and political.

25th May 1999 is the Red Letter Day for the country. It was on that day that the Nationalist leaders Shri Sharad Pawar, Shri P. A. Sangma and Shri Tariq Anwar with hundreds of their political supporters assembled at No. 6, Gurudwara Rakab Ganj Road, New Delhi and took the historic decision to form a new Political Party under the name 'Nationalist Congress Party'. Shri Sharad Pawar was elected President and Shri P. A. Sangma and Shri Tariq Anwar, General Secretaries of the party.

Our country suffers from a seemingly chronic malaise, which has left a great chasm between our inherent potential and its actual performance on selves with other developing Asian Countries, we find that India remains a large country with a poverty-afflicted economy, with large disparities in income distribution and sharing of wealth.

It is heartening that indian political parties spanning the entire gamut of ideological spectrum have generally accepted the imperatives of higher growth with grace and pragmatism. There is no hesitation in accepting the fact that finally India is today poised to come out of the cocoon of its sluggish growth rate and become a newly awakening economic power.

NCP is the Millennial Party with a modern and progressive orientation. Our idelogy is of holistic democracy anchored on Gandhian secularism, equity, social justice and federalism based National Unity.


| | | |
| --- | --- | --- |
| Yashwantrao Chavan | Vasant Dada Patil | Rajaram Bapu Patil |
Concept and Managed By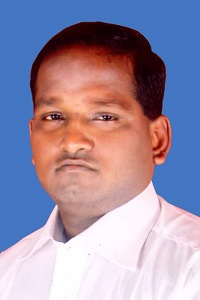 Mr Jyotiram Shedge